Past Events

Kick off 2012 by shooting and socializing at Graffiti Warehouse!
What: Meet n' Greet – shoot, model, network, and socialize all day long!
Where: Graffiti Warehouse
128 W. North Avenue, Baltimore, MD 21201
Attire: anything Post-Apocalypse (Military Garb, Steam Punk, Tattered Fashion Stuffs, etc.) or anything you fee comfortable wearing
Expected Donations: $5 for female models and female MUAs/stylists
$10 for male models and male MUAs/stylists
$20 for photographers/escorts/guests
PayPal Donations: Specify 1/14 Meet n' Greet in the subject area so we know what you are paying for.
Photographers: This is a great opportunity because you pay $20 and you can shoot as much as you like from 12pm to 6pm.
You are not required to arrange a private shoot with a model in advance.
Invite all your model and photographer friends=)
Pay at the door (cash only) or in advance via PayPal -see the following for general instructions
Sep 17, 2011 Shop & Shoot Meet & Greet

A James Lee video short of some of the Graffiti Warehouse art
GRAFFITI WAREHOUSE PRESENTING "SHOP AND SHOOT"

Saturday, Sept 17th from 2 PM - 8 PM. Rain or shine.


DJ will continue spinning after 8 PM, we want you to stay and party, no extra charge

Graffiti Warehouse will be hosting another event for the Greater Baltimore Photography community (I mean, we're all Hons, right?).

The "Shoot" part of the event is self explanatory – it will be just like the Meet and Greet in August.

The "Shop" part of the event is something new we will be trying. I know many people who have gear (shoes, clothes, lightstands, lenses, cables, flash modifiers) that they no longer use or need. I know many people who have been less than satisified selling things using the interwebs. Well, here's your chance to interact with live people, just like the bazaars in parts of the world without AC. of We will be encouraging people to bring items they want to sell or swap to other members. Pricing and deals is entirely up to you.

Want to trade a suitcase full of Victorian Corsets for a slightly used camera body? Have you realized that Manfrotto Nano stands fall over in a light breeze and want to trade up? Do you love your Einstein so much that you will never use your SB-800 again? Do you want to dump your D700 before it's been replaced and made obsolete? It's time to clean out the closet to make room for more goodies, or get money for school, or for Max's.

All deals are strictly between the two individuals, Graffiti Warehouse is not policing or responsible for any transactions. No Software can be traded, as per MM rules – we're simply providing the space.

If you have something that you want to trade or need, post an add to the Model Mayhem Market section and on there post a link to the thread on Model Mayhem . Do not post items for sale, trade, or wanted in the forum advertising this event or you will be locked.

Standard Graffiti Warehouse door pricing of $20 per Photographer and $5 per model/non photographer applies.

Your donations support the arts at Graffiti Warehouse:
Aug , 2011 Meet & Greet

Beat the Heat – Bring Your Own Swimsuit – Shallow Water, No Diving
Who: Models, Photographers, MUAs, Stylists, etc.
When: Noon till 6PM – Saturday, August 6, 2011
What: Come explore Graffiti Warehouse, shoot with local models and photographers, and network all day.
Where:
Graffiti Warehouse!
128 W. North Avenue
Baltimore, MD
Across the street from Joe Squared and next to Loads of Fun.
Wardrobe: Since it's August there will be a swimsuit theme. It's optional. Wear what you want!
Weather: Plenty of indoor and outdoor shooting space – rain or shine
Llamas: Uhm, no. Please stop asking for these. MM is not a petting zoo.
Your donations support the arts at Graffiti Warehouse:
$5 – Models
$20 – Photographers/Guests/Escorts
Now PayPal or cash day of.
PayPal and Learn more about the location: http://graffitiwarehouse.com/
Please bring a printed copy of payment or be able to show receipt on your phone, worst case scenario we can look you up.
we are a non profit organization, please mark payments as "donation" or "gift", if not PayPal keeps a outrageous percentage.
Invite your MM friends
May 22, 2011 Spring thru Time Meet & Greet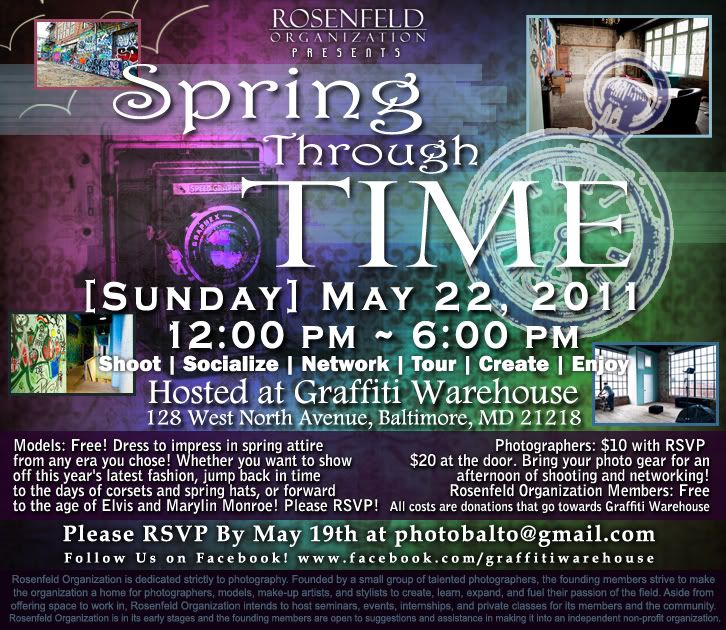 April 2, 2011 Graffitti Warehouse Meet & Greet (our first M&G)

Time
Saturday, April 2 · 10:00am – 12:00pm
Location
Baltimore's North Station Art District
128 West North Ave.
Baltimore, MD
Created By
Graffiti Warehouse
More Info
Enjoy a Fun Filled Day Networking and Shooting with All Your Favorite Models and Photographers in 14,000 Sq. Feet of Studio Space . . . .
Donation Only $10.